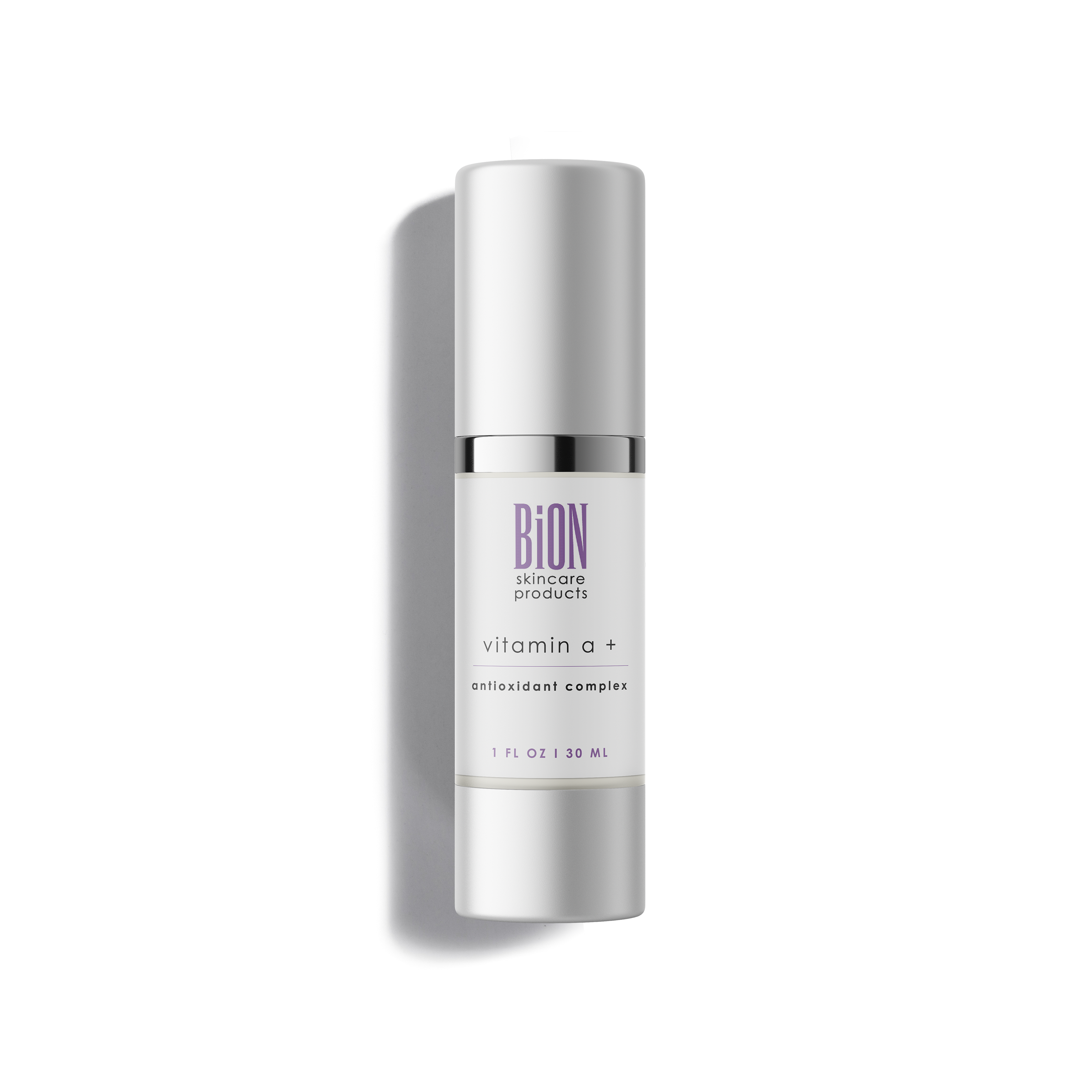 Vitamin A + Antioxidant Serum
Sale price

41,00€
Regular price
(/)
---
Repairing and rejuvenating serum that provides the skin with an effortless and non-irritating way to promote a youthful texture as well as a radiant skin tone. Contains 1% retinyl palmitate-based vitamin A, which provides an intensely rejuvenating effect on the skin - in a deep moisturizing composition. The serum helps to restore a smooth surface texture and even tone, while activating the natural regeneration processes of the skin and skin cells. Smoothes fine lines, scarring and uneven skin tone, fights against occasional impurities, and the signs of aging.
For the best results, use serum at bedtime to accelerate the nightly process of cell regeneration. This way, you wake up in the morning with soft, supple and radiant skin.
• Vitamin A stimulates cell regeneration, restores skin's thickness and strength, fights against pigment changes and improves the skin's repairing function of angiogenesis (the formation of new capillaries), while clearly strengthening the skin's vibrant tone and natural regeneration processes
• Plant-based phospholipid are natural components of the skin and rebuild the skin layers and strengthen the protective lipid layer
• Alpha-lipoic acid promotes softness of the skin and firms degenerated connective tissue
• Ultra-stabilized and anti-inflammatory vitamin C effectively repairs skin pigment changes and balances melanin production
Käyttö

* Kun aloitat A-vitamiinin käytön:

Mikäli ihosi ei ole tottunut A-vitamiinituotteisiin, suosittelemme aloittamaan tuotteen käytön pikkuhiljaa ja asteittain. Voit esimerkiksi levittää seerumin ensimmäisten hoitoviikkojen aikana kasvovoiteen päälle tai muutama tippana kasvovoiteeseen sekoitettuna. Näin ihosi saa kasvatettua toleranssia A-vitamiinille.

Aloita tuotteen käyttö 1-2krt viikossa aina iltaisin ja kasvata käyttötiheyttä ihotoleranssin mukaan. Mikäli ihosi punoittaa, harvenna käyttöväliä.

* Kun ihosi on tottunut A-vitamiinin käyttöön:

Levitä ohuelti puhdistetulle iholle, aina iltaisin. Levitä päälle ihotyypin mukainen kasvovoide.

* Huom! Ei suositella raskauden tai imetyksen aikaiseen käyttöön.
Ainesosat

Avainainesosat:
A – B – E ja C-vitamiini, Soijaglysiini, Alfalipoiinihappo, Sinkki, Salisyylihappo, Kamomillauute, Kvittenuute, Rosmariiniuute, Aloe Vera-uute, Konjac-uute, Pantenoli (B5), Bisabolol

Ainesosat:
Deionized Water (Aqua), Propanediol, Glycine Soja Extract, Chamomilla Recuitita Flower Extract (German Chamomile), Polyvinyl Alcohol, Zinc Glutamate, Pyrus Cydonia Seed Extract (Quince), Rosmarinus Officinalis Leaf Extract (Rosemary), Aloe Barbadensis Leaf Extract (Aloe Vera), Ascorbyl Palmitate (C-vitamin), Retinyl Palmitate (A-vitamin), Tocopheryl Acetate (E-vitamin), Amorphophallus Konjac Root Powder (Konjac), Panthenol (B5-vitamin), Alpha Lipoic Acid, Xanthan Gum, Salicylic Acid, Polysorbate 20, Bisabolol, Phenoxyethanol, Potassium Sorbate, Ethylhexylglycerin, Tetrasodium EDTA
Choose options