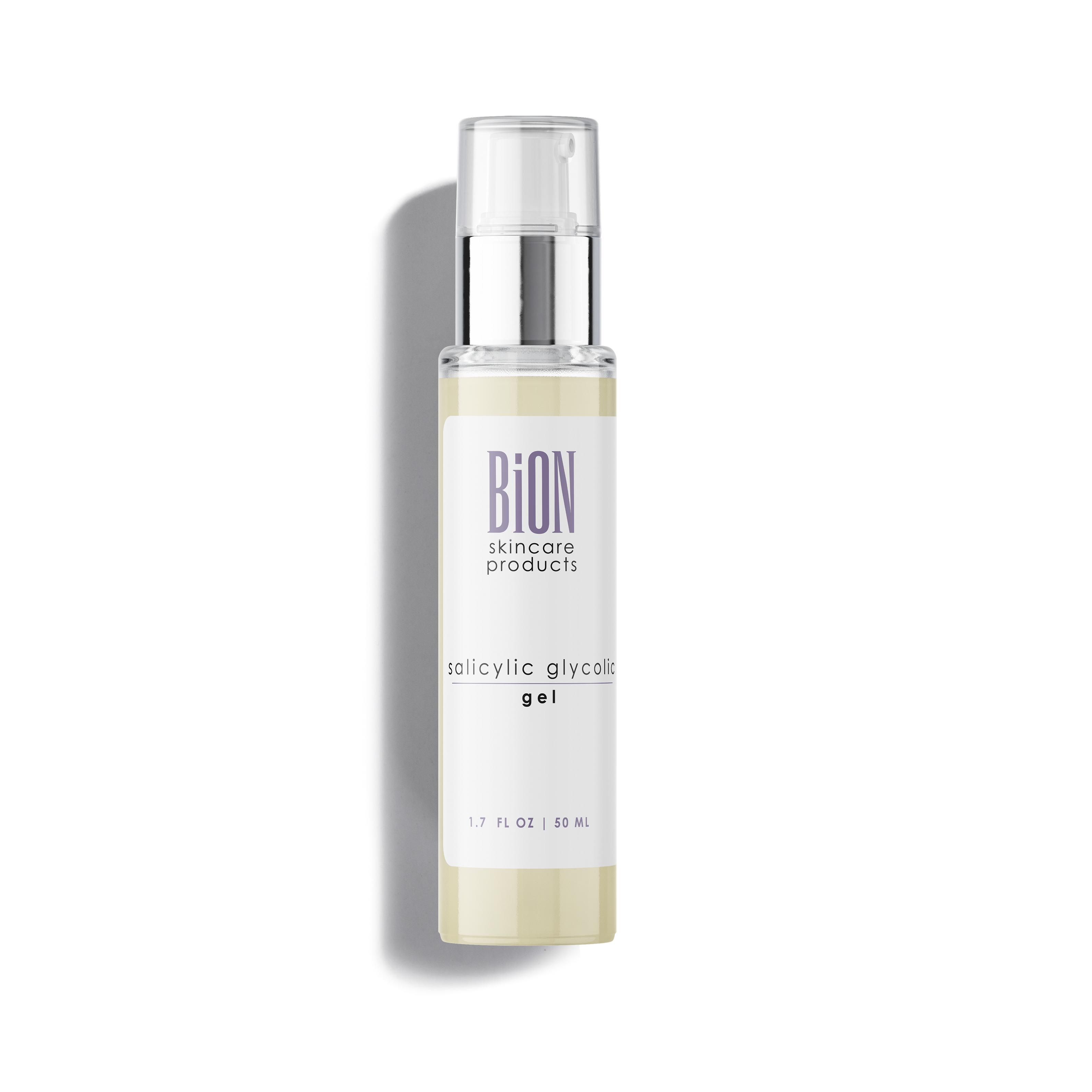 Salicylic-Glycolic Gel
Sale price

39,90€
Regular price
(/)
---
Antibacterial treatment gel with a water - and fat-soluble AHA / BHA combination. The targeted effect of the gel effectively cleanses and dissolves excess sebum, blockages, and acne bacteria from the pores. The fast-absorbing gel exfoliates and prevents the formation of clogging skin cell layers, which helps to keep the pores open and clean. The perfect anti-inflammatory treatment for skin prone to occasional sebum blockages, sebaceous filaments, or comedone acne. Balances the natural rhythm of sebum production.
• Antibacterial AHA / BHA combination of glycolic and salicylic acid helps to effectively dissolve excess sebum, blockages and acne bacteria from the pores without drying the skin
• Isolated green tea extract EGCG inhibits the action of the acne-promoting 5 alpha-reductase enzymes and acts as a maximal ingredient destroying the p.acnes bacteria
• Enzymatic fruit and berry extracts maintain the skin brightness and prevent surface dryness while keeping the pores open and preventing the sebum oxidation
• Niacinamide, or vitamin B3, helps to regulate excess sebum production, shrink pores, fade dark spots and hyperpigmentation, and soothe inflammatory conditions in the skin
Käyttö

Käytetään komedoaknen hoidossa (normaali-, seka – ja rasvainen iho) sekä talitukkeumien hoidossa. Levitä hyvin ohut kerros geeliä puhdistetulle iholle aamuin-illoin vain ongelmakohtiin. Älä levitä tuotetta silmänympärysiholle.

Puhdistuskumppaniksi suositellaan ihohuokosia puhdistavaa Antibacterial Cleanser - puhdistusgeeliä sekä Moisture Complex - voidetta.

Huom! Älä käytä Salicylic Glycolic Gel - tuotetta Acne Rosacean (ruusufinni) hoidossa.
Ainesosat

Avainainesosat:
Glykolihappo 5.5%, Salisyylihappo 0.5%, Mustikkauute, Niasiiniamidi (B3), Kurkuminoidit, Sokerivaahterauute, Appelsiiniuute, Sitruunauute, Fosfolipidit, Koivunkuoriuute, Granaattiomenauute, EGCG, Pajunkuoriuute, Taateliuute, Mansikkauute, Japanin Kuusamauute, Totarol

Ainesosat:
Deionized Water (Aqua), Glycolic Acid, SD Alcohol 40, Vaccinium Myrtillus Fruit Extract (Blueberry), Niacinamide, Curcuminoids (Turmeric), Acer Saccharinum Extract (Maple), Citrus Aurantium Dulcis Fruit Extract (Bitter Orange), Citrus Medica Limonum Fruit Extract (Citron), Phospholipids, Betula Alba Extract (Birch), Punica Granatum Fruit Extract (Pomegranate), Sclerotium Gum, EGCG (Green Tea), Ammonium Hydroxide, Salicylic Acid, Propylene Glycol, Salix Alba Bark Extract (Willow), Phoenix Dactylifera Extract (Date Palm), Fragaria Chiloensis Fruit Extract (Beach Strawberry), Polyquaternium-10, Caprylyl Glycol, Lonicera Japonica Extract (Honeysuckle), Phenoxyethanol, Tetrasodium EDTA, Totarol
Choose options