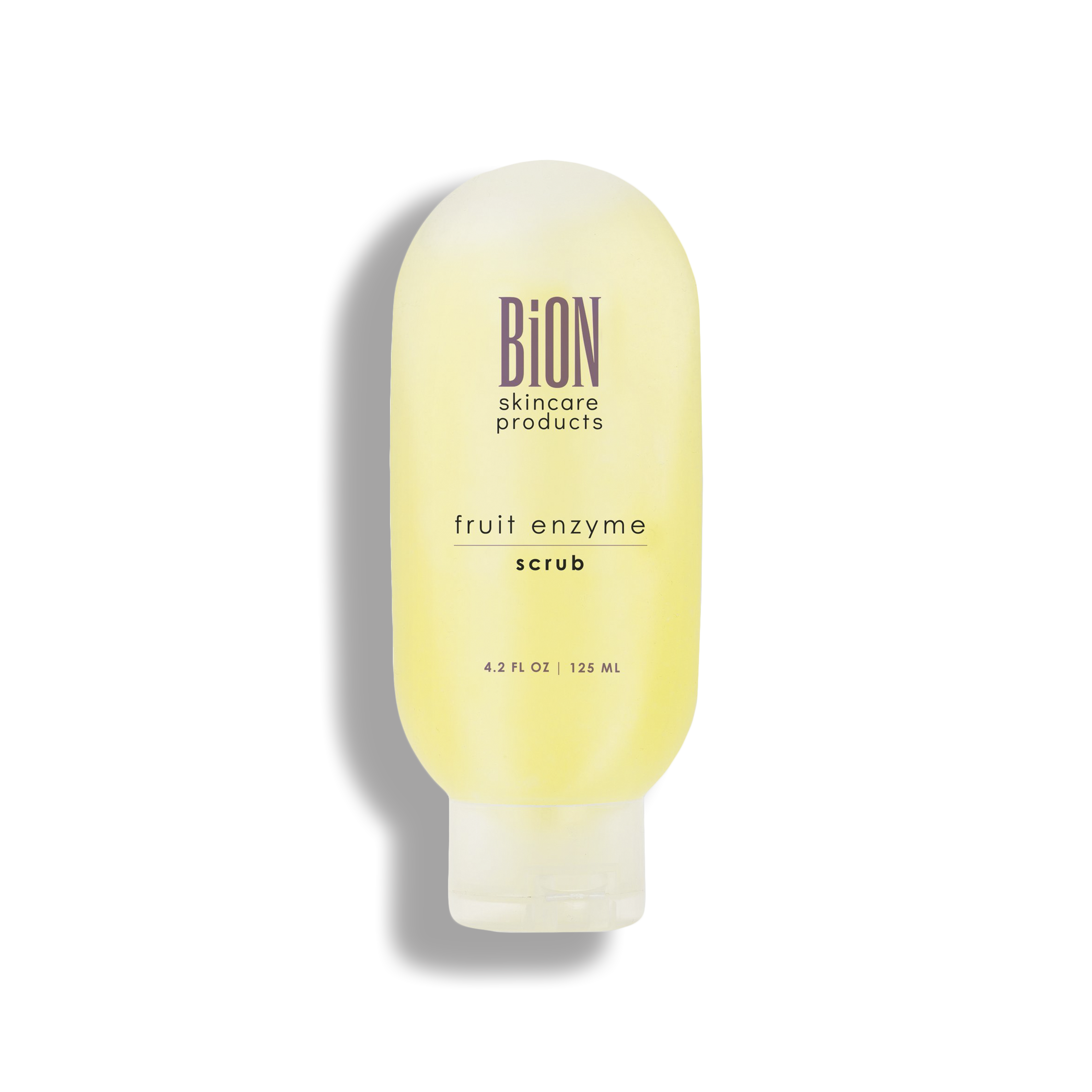 Fruit Enzyme Scrub
Sale price

32,00€
Regular price
(/)
---
Enzymatic exfoliating scrub that makes the skin feel deeply moisturized, glowing and elastic. The enzymes effectively break down a dead skin cell layers, revealing a beautiful balanced and radiant layer of skin underneath. The gel also contains small-sized jojoba granules that help to completely remove the skin cells dissolved by the pineapple enzyme. The enzymatic effect is enhanced in humid and warm, for example in the shower.
Natural moisturizing factor sorbitol prevents transepidermal water loss


Soothing mandarin has a balancing, astringent and firming effect

Flavonoids in chamomile soothe skin irritations, inflammations and prevent aging changes caused by free radicals

Aloe Vera effectively binds moisture to the skin and soothes the tight feeling of dry skin

Bromelain enzyme extracted from pineapple breaks down and dissolves a dead skin cell layers, revealing a new radiant skin layer underneath.

Pineapple extract also contains a high amount of natural vitamin C, which stimulates collagen production, evens out skin tone and pigment spots, and restores elasticity
Käyttö

Kuori iho kerran tai kaksi viikossa. Levitä kostealle, puhdistetulle iholle ja hiero kevyesti silmänympärysihoa välttäen noin 30-60 sekunnin ajan ja anna vaikuttaa 2-5 minuuttia, jotta entsymaattinen vaikutus tehostuu. Viimeistele vielä kevyellä kitkauksella, jotta jojobarakeet irrottavat viimeisetkin rippeet kuolleesta ihosolukosta. Huuhtele.
Ainesosat

Avainainesosat:
Hypoallergeeniset Jojobavaha-rakeet, Aloe Vera-uute, Kasviperäinen glyseriini, Ananas-uute (bromelaiinihappo), Kamomilla-uute, Mandariiniöljy, Sorbitoli (NMF)

Ainesosat:
Deionized Water (Aqua), Glycerin (Vegetable), Hydrogenated Jojoba Oil, Sorbitol, Aloe Barbadensis Leaf Extract (Aloe Vera), Anthemis Nobilis Flower Extract (Roman Chamomile), Ananas Sativus Fruit Extract (Pineapple), Carbomer, Phenoxyethanol, Triethanolamine, Citrus Nobilis Peel Oil (Mandarin), Caprylyl Glycol, Ethylhexyl Glycerin, Hexylene Glycol
Choose options