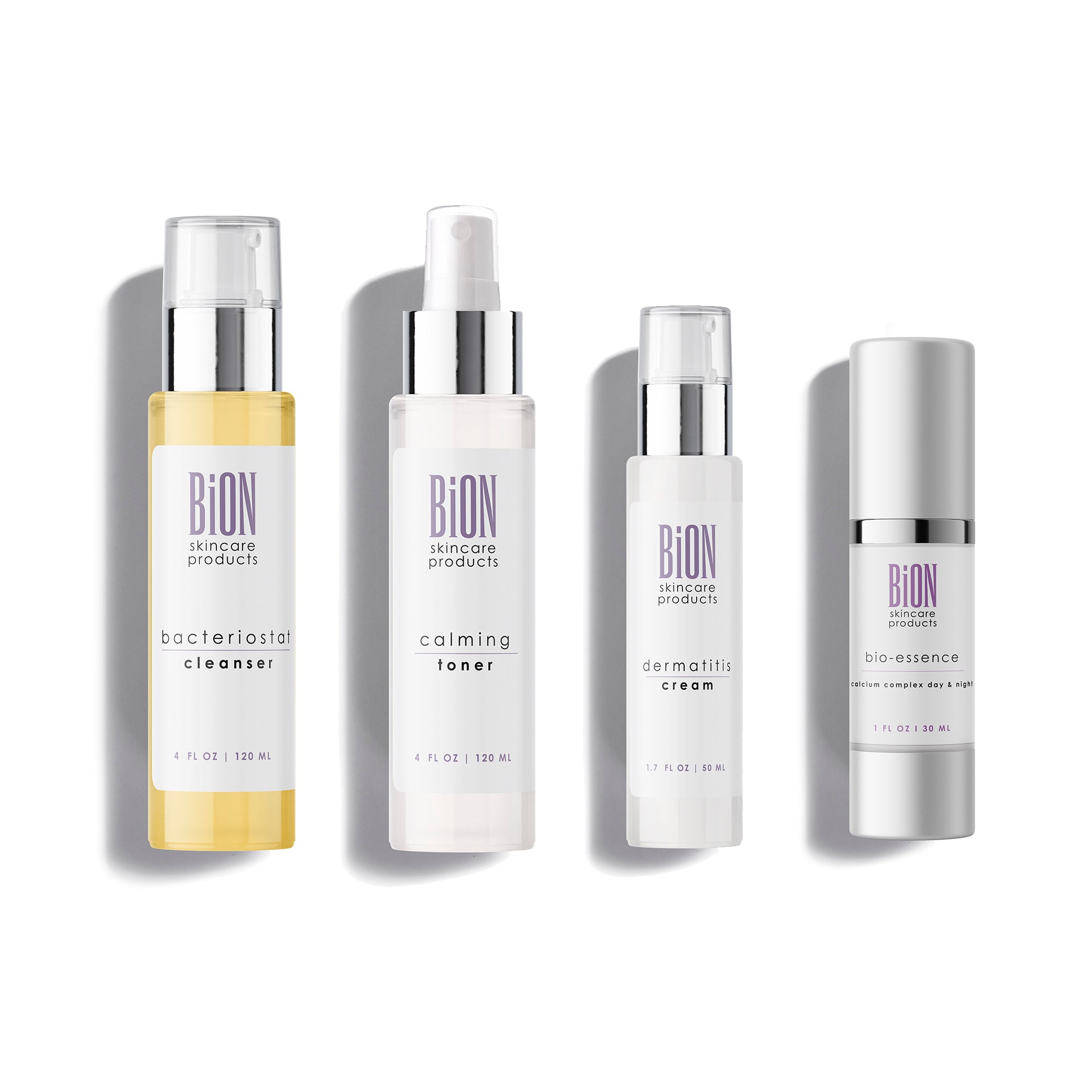 Acne & Rosacea Control
Sale price

122,40€
Regular price

153,00€
(/)
---
An effective and long-lasting product set for Acne rosacea treatment. Contains Bacteriostat Cleanser, Follicle Clearing Lotion, Green Tea Clay poultice and Moisture Complex.
Käyttö

Aamu- ja iltahoito:

1. Levitä kostealle iholle pieni pisara Bacteriostat Cleanser -puhdistusgeeliä, vaahdota geeli kämmenissä kevyesti ja puhdista kasvot. Huuhtele viileällä vedellä.

2.Suihkuta kämmenelle Calming Toner -kasvovettä ja taputtele neste kauttaaltaan kasvoille. Toista tarvittaessa, kunnes iho tuntuu kostealta.

3. Levitä paikallisesti ongelma-alueille ohut kerros rauhoittavaa Dermatitis Cream voidetta.

4. Levitä lopuksi koko kasvoille ohut kerros rauhoittavaa Bio-Essence Calcium Complex -kosteusvoidetta.
Ainesosat

Avainainesosat:

Bacteriostat Cleanser 120ml
Oreganouute, Kurkumauute, Salisyylihappo 0.5%, Kauran aminohapot, Laventeliöljy, Kasviperäinen glyseriini, Lakritsakasvin juuriuute, Piparminttuöljy

Calming Toner 120ml
Aloe Vera-uute, Hamamelisuute, Hevoskastanjauute, Kurkku-uute, Kalsium, Niasiiniamidi (B3-vitamiini), Pyridoksiini (B6-vitamiini), Kasviperäinen glyseriini, Sokerin aminohapot (NMF), Alaniini, Allantoiini (aminohappo), Glutamiinihappo (aminohappo), Pantenoli (B5), Ginseng-uute, Beetakaroteeni (A-vitamiini), C-vitamiini, Klorofylli (lehtivihreä)

Dermatitis Cream 50ml
Safloriöljy, Soijaglysiini, Viinirypäleensiemenöljy, Kasviperäinen glyseriini, Kamomillauute, Vihreä Tee-uute, Iltaesikkoöljy, Oliiviuute, Hyaluronihappo, Niasiini (B3), Riisin aminohapot, Glysiini (aminohappo), Pantenoli (B5), Glykogeeni (NFM-polysakkaridi), Hiivauute, E-vitamiini, Bisabolol, Piroktoni Olamiini, Greippiöljy

Bio-Essence Calcium Complex 30ml
Kalsium, Beetaglukaani, Kasviperäinen glyseriini, Safloriöljy, Pantenoli (B5), Sinkki, E-vitamiini
Choose options